Desserts
In modern gastronomy
In professional gastronomy, a professional kitchen device called a combi oven is often used to prepare meals. The combi oven has the properties of a hot air and a steam oven at the same time. This kitchen equipment is great for preparing all kinds of meat, vegetables, side dishes and even desserts. The combi oven offers many ways of cooking food such as cooking, pre-cooking, steaming, stewing, baking, baking, low-temperature or slow baking, sous-vide, confit, smoking, drying, grilling, grilling, roasting, frying, poaching, blanching, regeneration, sterilization or shock cooling.
Dessert as a sweet dot
In professional gastronomy, the menu ends with a sweet dot in the form of a dessert, which I serve alone or with coffee. The sweet dot is in the form of a dessert, dessert, cake, ice cream or pudding. In some southern European countries, dessert means fruit or cheese. Desserts can be divided into baked- pumpkin pie, unbaked- Italian tiramisu, cooked- English Christmas pudding or dried- different kinds of fruit.
Recipes for delicious desserts from around the world
As for desserts, in each country we can find several recipes that the natives can be proud of. The legendary tiramisu, coffee affogato, pear cake, crostata, panna cotta prepared from thick cream poured into molds or panettone were born in Italy. Panettone is a sweet Italian bread that is smeared with cream cheese and decorated with strawberries to create a sumptuous dessert. Spain boasts sweet donuts called churros. It is a fried pastry in the form of bars wrapped in sugar or dipped in chocolate. In French cafes you will find créme brüleé, the preparation of which ends with baking at 150 ° C. Crepes are small thin egg pancakes garnished with sugar, fruit or icing. Waffles also originate in France and are made from leavened or unleavened dough. Czech cuisine is popular with lard cookies prepared for Christmas or other celebrations. These are mainly lard vanilla rolls, lard cakes or lard balls. Malt sugar, honey and syrup are mainly used as a sweetener in the preparation of desserts. Sweet soy paste is used in Japanese and Chinese desserts, such as mooncakes and steamed buns. Desserts also include the well-known and very popular muffins, cupcake, cheesecake, English specialty - English Christmas pudding, amaranth cakes, sweets, basboosa prepared in Arab countries, Greek fig cake, halva, baklava ...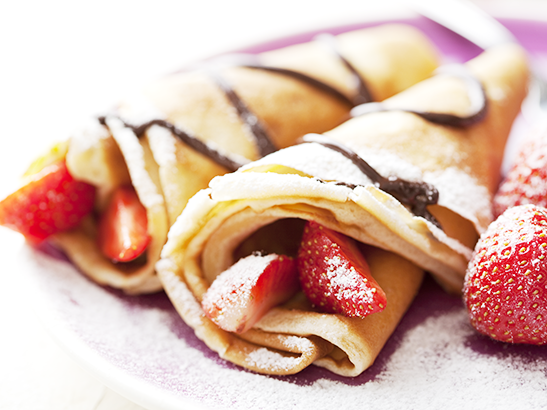 Are you interested in other categories of dishes?