Spanish cuisine
In a modern kitchen
In professional gastronomy, a professional kitchen device called a combi oven is often used to prepare meals. The combi oven ensures higher yield, healthy cooking, use of steam, dry air or a combination of both. The biggest advantages of the device include a gentle way of preparing meals, preserving a large amount of vitamins and higher nutritional value of prepared meals. The combi oven offers many ways of cooking food such as cooking, pre-cooking, steaming, stewing, baking, baking, low-temperature or slow baking, sous-vide, confit, smoking, drying, grilling, grilling, roasting, frying, poaching, blanching, regeneration, sterilization or shock cooling.
Spanish cuisine
Spanish cuisine is known for its diversity and many different tastes. In coastal areas, fish, seafood and vegetables are mainly consumed. On the contrary, inland, we encounter more meat dishes. Spanish cuisine was influenced by colonialism in South America, from where tomatoes, peppers and potatoes were imported to Spain, which quickly took hold in the kitchen. On the contrary, saffron and cumin arrived in the local gastronomy of Arabic cuisine. Spain is considered the largest consumer of olive oil in the world.
Recipes of Spanish cuisine
The most famous specialties of Spanish cuisine include gazpacho, paella, tortillas, bacalao and various types of cheese and cold cuts. Paella is the most famous Spanish dish with a name derived from the iron oval pan, on which it is prepared and served. The main ingredients are at least two types of meat, rice and vegetables. Sopa de lechugas is a famous salad soup. Caldo is a soup made from a piece of fresh and a piece of smoked pork. The meat is cooked with chopped cabbage, beets and potatoes for 4-5 hours. Asado is Spanish-style poultry, served as a soup. Ajo blanco is a national Spanish dish, it is a cold dill popular mainly in Andalusia. A bun or bread is bitten into the finished dish. Churros - Spanish donuts, fried in the form of sticks of a star-shaped or round shape. They are served in cafés and restaurants along with hot chocolate. Cassata bandera is a designation for small pastries. Turrón is traditionally prepared for Christmas - a Christmas dessert sprinkled with almonds. The basic ingredients are almonds, bee honey and sugar. Aguardiente is a Spanish brandy made from grape marc and anise. It is often added to water, rarely drunk alone.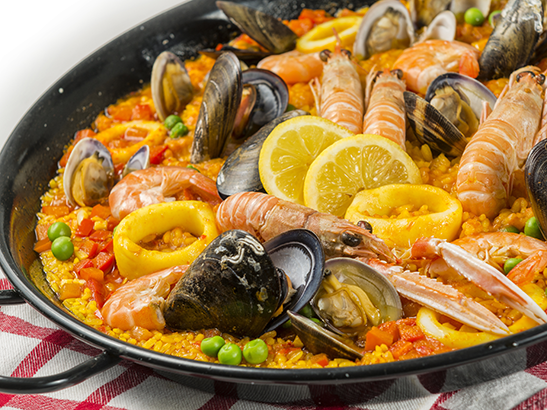 Search by category
Fish
1.1. 1
Cuisine: Spanish
Portions: 8
Side dishes
1.1. 1
Cuisine: Spanish
Portions: 6