Italian cuisine
In a professional kitchen
In professional gastronomy, the combi oven is often used to prepare meals. This is a professional kitchen equipment that has many practical features. The combi oven ensures a gentle way of preparing meals, preserving a large amount of vitamins and a higher nutritional value of prepared meals. The combi oven offers many ways of cooking food such as cooking, pre-cooking, steaming, stewing, baking, baking, low-temperature or slow baking, sous-vide, confit, smoking, drying, grilling, grilling, roasting, frying, poaching, blanching, regeneration, sterilization or shock cooling.
Italian cuisine
As for Italian cuisine, it is often called one of the best in the world and is known and popular all over the planet. Italian cuisine is based on the freshness and quality of ingredients. Vegetables, olive oil, seafood, meat and cheese are the basic ingredients that must not be missing in any kitchen. Meals are usually supplemented with fresh chopped herbs, such as oregano or basil. Italian cuisine is known for its large number of types of pasta and the endless possibilities of their preparation. The pasta comes from ancient Rome. Other famous dishes of Italy are pizza, risotto, panini, tiramisu ...
Recipes of Italian cuisine
As already mentioned, Italian pasta has thousands of forms and uses. Agnolotti are pasta wraps filled with a mixture of meat or vegetables. The fillings can be salty or sweet. Lasagna is the best-known type, it has a rectangular shape, straight or serrated edges and is used to prepare food of the same name. Bake in several layers with meat or vegetables. Linguines or "tongues" are thin flat pasta similar to spaghetti. Other types of Italian pasta are conchigliette or fussilli. Italian cuisine is known for its multi-course menu, which begins with a dish called antipasta. It is an Italian designation for an appetizer, which is characterized by cold meat, vegetables and cheese. The most famous pizza is definitely margerita. Tomatoes, basil and mozzarella are the basis. There are over 200,000 different pizzas all over Italy, and each restaurant has its own unique recipes. From desserts, delicious tiramisu, coffee affogato, pear pie, crostata or panna cotta were born in Italy. Among the desserts we can also include panettone, which is a sweet Italian bread that is smeared with cream cheese and decorated with strawberries.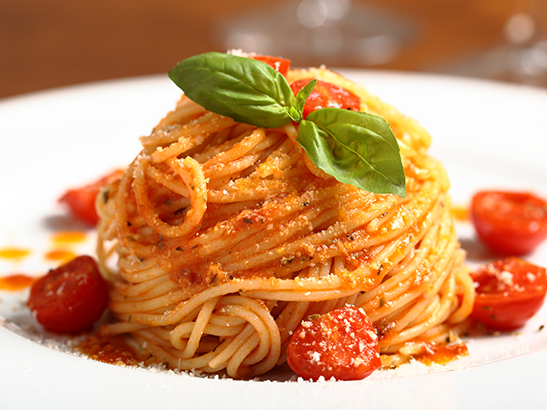 Search by category