Czech cuisine
In professional gastronomy
The combi oven is a professional kitchen equipment that is used to prepare meals in professional gastronomy. The great advantage of the device is the properties of the hot air and steam oven at the same time. This kitchen equipment is great for preparing all kinds of meat, vegetables, side dishes and even desserts. The combi oven offers many ways of cooking food such as cooking, pre-cooking, steaming, stewing, baking, baking, low-temperature or slow baking, sous-vide, confit, smoking, drying, grilling, grilling, roasting, frying, poaching, blanching, regeneration, sterilization or shock cooling.
Czech cuisine
Czech cuisine is generally considered to be very tasty, but at the same time heavy and difficult to digest. Elements of Czech cuisine intermingle with neighboring countries. The cuisine was influenced by the then group Austria-Hungary and later Czechoslovakia. Czech cuisine is varied, we can find several types of sauces, soups and meat dishes. The Czech specialty includes mainly dumplings prepared in many ways. They can be salty or sweet - filled with fruit served as a main course.
Recipes from Czech cuisine
Typical Czech dishes include mushroom fry, Krkonoše pork chop, gouache and butcher's dishes. The famous specialty is Olomouc cheese or Pilsner-type beer, which tourists come from all over the world to taste here. The traditional soups are sour, kulajda, Slovácko onion soup or cabbage acid. Cabbage tassels - a dish of grated potatoes, flour, pepper salt, boiled in hot water, then fried with bacon and served with sauerkraut. Martin's goose and Martin's rolls, which is a dish made from wheat flour stuffed with poppy seeds, jam or gingerbread, are traditionally prepared for St. Martin's. For Christmas, there must be Cuba - a mushroom dish and fried carp in butter. At Easter, it is time for meatloaf, a dish of meat, eggs and spring herbs. Of the Czech sweet dishes, these are mainly buns, cakes with pears, dried fruits - crucifers, trdelník, frgál, carrots - cakes filled with carrot stuffing, cottage cheese - cottage cheese pie, vanilla pudding and eggs. Kucmoch is the name for poppy puffins used in the Elbe. Pagáče is a cake filled with cabbage in Wallachia. Lata is a designation for a potato pancake from the area around Kyjov.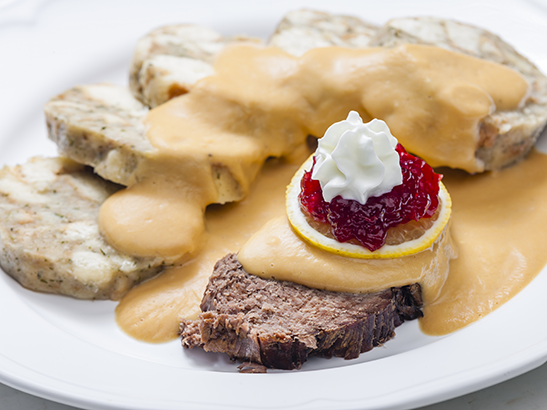 Search by category