Greek cuisine
In professional gastronomy
In professional gastronomy, a professional kitchen device called a combi oven is often used to prepare meals. This kitchen equipment ensures healthy food preparation, higher yield, gentle way of food preparation, preservation of a large amount of vitamins and higher nutritional value of prepared meals. The combi oven offers many ways of cooking food such as cooking, pre-cooking, steaming, stewing, baking, baking, low-temperature or slow baking, sous-vide, confit, smoking, drying, grilling, grilling, roasting, frying, poaching, blanching, regeneration, sterilization or shock cooling.
Greece cuisine
Greek cuisine is known for its freshness. Fresh ingredients such as tomatoes, eggplant, peppers, cucumbers, olives, potatoes, olive oil and many types of herbs are the basis of this cuisine. The most commonly eaten meats include mutton, lamb, fish and seafood. Greek cuisine is known for dairy products such as feta cheese and thick Greek yoghurts. Specialties include tzatziki, gyros or Greek salad. Greek cuisine is one of the Mediterranean cuisines, but Turkey and the Balkans also have a great influence on it.
Recipes of Greek cuisine
Greek cuisine looks very fresh, light and healthy compared to others. One of the most famous specialties is tzatziki - yogurt dressing with grated cucumber known around the world. Gyros is also a national specialty dating back to the 4th century. It is roasted mutton on a vertical spit. Even moussaka is prepared from mutton, it is baked in oil, salted and flavored with ketchup. Subsequently, the meat is mixed with boiled potatoes, rice and tomatoes. A dish of warm soft cottage cheese is called an intermediate cheese. Typical Greek pastries include tákos. It is a dark Greek round bread made of barley and wheat. Interestingly, such such is kept hard and softened with water, poured with oil, a little vinegar, salted and covered with oregano tomatoes just before use. Fig cake is a popular and traditional Greek dessert. As in Turkey and Tunisia, a sweet supplement called halva is used in ice cream sundaes, fruit salads and other dishes. Greek cuisine also has its Easter specialties, one of which is tsoureki. It is a knitted bread or plait with a high content of sugar and fat spiced with vanilla and orange peel. The plait is usually sprinkled with sesame or poppy seeds.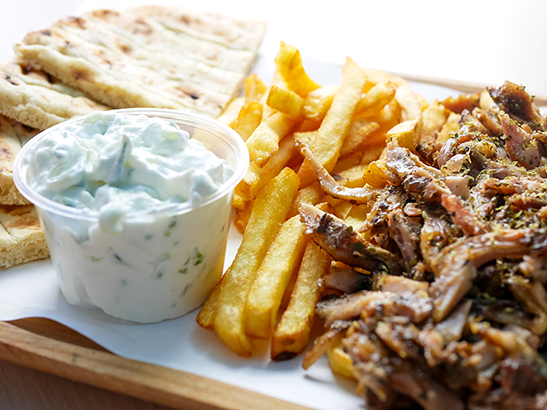 Search by category
Side dishes
1.1. 1
Cuisine: Greek
Portions: 4
Beef
1.1. 1
Cuisine: Greek
Portions: 4