Indian cuisine
In a modern kitchen
A professional kitchen appliance called a combi oven is part of every kitchen in professional gastronomy. It is used to prepare even juicier and tastier dishes. Thanks to its properties, this kitchen equipment is great for preparing all kinds of meat, vegetables, side dishes and even desserts. The combi oven offers many ways of cooking food such as cooking, pre-cooking, steaming, stewing, baking, baking, low-temperature or slow baking, sous-vide, confit, smoking, drying, grilling, grilling, roasting, frying, poaching, blanching, regeneration, sterilization or shock cooling.
Indian cuisine
There are a large number of ethnic groups living in India, thanks to which Indian cuisine has gained its diversity and an inexhaustible number of aromas. The cuisine differs regionally, in the north and west we encounter mainly legumes such as chickpeas, lentils or peas. By contrast, the south and east of India consume mainly rice. Typical Indian dishes include tandoori, vindaloo, curry, chutney or bread pancakes, as well as chapatis. Many dishes in Indian cuisine are vegetarian - consisting of several types of legumes and possibly supplemented with paneer cheese.
Recipes of Indian cuisine
One of the most famous dishes of Indian cuisine is tandoori - spicy chicken baked in a tandoor oven; vindaloo - pork with garlic, vinegar and salt; curry - meat and vegetable ragout in a thick aromatic sauce. Tandoori masala is an Indian mixture of spices intended for roasting chicken and roasting meat. A very spicy salsa made from fruit or vegetables is called achar. Indian acni broth is suitable for preparing a variety of dishes. Baghár is a designation for a spicy oil prepared from chili peppers, onions and mustard seeds. It is used for watering baked potatoes, dumplings and other dishes. Pakora is a typical vegetarian dish, it is stuffed with bags of vegetables or legumes. Murkha dhal also belongs to the category of vegetarian dishes. It is a dish prepared from red lentils, black mustard seeds, garlic, ginger root, coconut milk and salt. Alu masala are potatoes cooked with spices and onions. In Indian cuisine, panír is a designation for cottage cheese, lassy is whipped yogurt diluted with water and supplemented with seasonal herbs. A variety of bread cakes are prepared in Indian cuisine, varying in composition, taste and appearance. These include, in particular, nan, chapati or atta.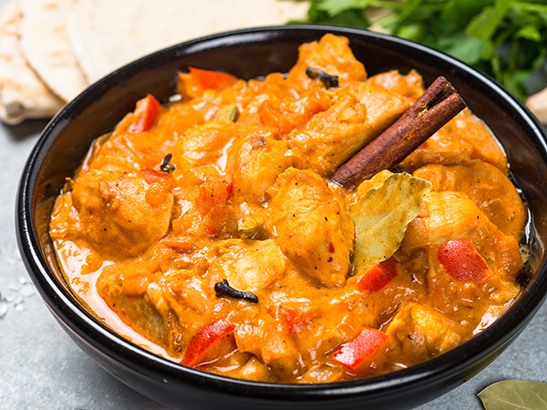 Search by category