Japanese cuisine
In modern gastronomy
The combi oven is a professional kitchen appliance that is often used to prepare meals in professional gastronomy. The device has the properties of a hot air and a steam oven at the same time. It therefore enables the production of steam, hot air or a combination of both. The combi oven offers many ways of cooking food such as cooking, pre-cooking, steaming, stewing, baking, baking, low-temperature or slow baking, sous-vide, confit, smoking, drying, grilling, grilling, roasting, frying, poaching, blanching, regeneration, sterilization or shock cooling.
Japanese cuisine
Japanese cuisine is often called the healthiest in the world. The kitchen is based on fresh and quality ingredients. The main ingredients are fresh fish, seafood, vegetables, tofu, various types of noodles and rice. Dishes are often flavored with soy sauce, ginger or wasabi. Lots of dishes are served cold. The most common heat treatments include frying, cooking and stewing.
Recipes of Japanese cuisine
The mysterious Asian taste of umami comes from Japanese cuisine. Umami complements the four basic flavors distinguished by the taste buds of the tongue. Wasabi or Japanese horseradish is a green horseradish paste used to make sushi. Soy has many uses in Japanese cuisine. It is used to make tofu, soy flour and a variety of desserts. Sweet soy paste is obtained from dried soybeans and is used in the preparation of desserts such as moon cakes or steamed buns. Soy sauce - soy sauce is an essential ingredient in Japanese dishes and has become popular all over the world. Soybeans are also used, which are very tender and juicy. In Japanese cuisine, sushi or oniguri is prepared at Hanami festivities - rice balls wrapped in dried seaweed. Sukiyaki is a dish prepared in one pot. The main ingredient is thinly sliced ​​beef, which is baked in oil and then stewed in a pan in sukiyaki sauce. Well-known Japanese fruits include umeboshi - plums, which contain large amounts of natural acids and minerals; Japanese apricots - for their ability to detoxify, they are ranked among the healthiest ingredients. Japanese noodles have many forms and uses. In Japanese cuisine, they are one of the most common side dishes. Azuki - adzuki are small red beans widely used in Japanese cuisine. Mung beans are used in soups, puddings and are also suitable for germination. In addition, they are a great source of iron, magnesium, manganese and vitamins.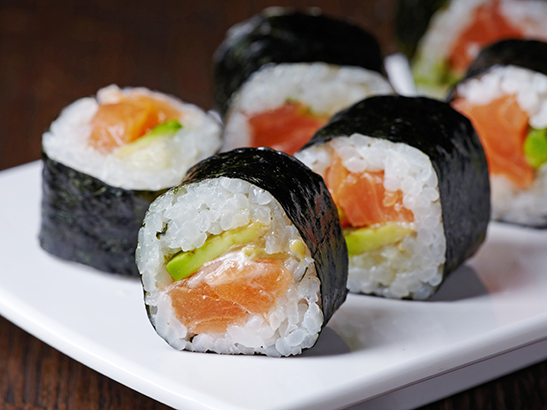 Search by category
Fish
13.8. 2021
Cuisine: Japanese
Portions: 8
Pork
20.7. 2021
Cuisine: Japanese
Portions: 8