Lamb mutton
In professional gastronomy
A professional kitchen appliance called a combi oven is often used in professional kitchens to prepare meals. The great advantage of the device is the gentle way of food preparation, higher yield and short cooking times. The combi oven offers many ways of cooking food such as cooking, pre-cooking, steaming, stewing, baking, baking, low-temperature or slow baking, sous-vide, confit, smoking, drying, grilling, grilling, roasting, frying, poaching, blanching, regeneration, sterilization or shock cooling.
Lamb on a plate
Lamb is obtained from sheep less than six months old. Meat from older pieces is referred to as mutton. This type of meat is especially popular in the Middle East, India and the Balkans. Mutton has a bright red color and for its strong aroma is prepared mainly with garlic and herbs such as thyme or rosemary. Lamb, on the other hand, is softer, containing almost no fat and cholesterol. Lamb and mutton are rich in protein and minerals. It is most often served baked, grilled or stewed.
Lamb and mutton recipes
Lamb and mutton has become a great delicacy around the world. A popular part is the leg of lamb, which we can bake as a whole, with bone, boned or sliced ​​in advance. This type of meat is an excellent carpaccio. These are thin to translucent slices of absolutely fresh raw meat. Gyros, a Greek national specialty dating from the 4th century, is also associated with this type of meat. Mutton is roasted on a vertical spit and gradually sliced. Kofta is an Indian dish prepared from minced lamb. In Arabic cuisine, we meet dumplings stuffed with minced lamb called manta, stewed lamb with pumpkin - markok or fried lamb sandwiches - arayess. Dalma is a Turkish delicacy made of mutton. Sazdrma is mutton fried in oil and dried in the stomach of an animal, also from Turkish cuisine. The Russian specialty is ňaňa, it is a mutton stomach stuffed with minced mutton, onions and buckwheat porridge. Various spices and dips such as amazon grill, American mustard, Italian spice mixture, harissa, mixed grill are often used to flavor meat ...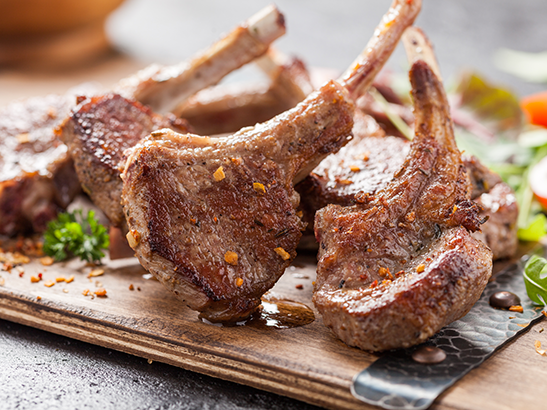 Are you interested in other categories of dishes?