Vegetables
In professional gastronomy
In professional gastronomy, a professional kitchen device called a combi oven is often used to prepare meals. A gentle way of preparing meals, preserving a large amount of vitamins and higher nutritional value of prepared meals are the main requirements of professional gastronomy. The combi oven offers many ways of cooking food such as cooking, pre-cooking, steaming, stewing, baking, baking, low-temperature or slow baking, sous-vide, confit, smoking, drying, grilling, grilling, roasting, frying, poaching, blanching, regeneration, sterilization or shock cooling.
Vegetables, the cornerstone of gastronomy
Vegetables are a staple food in gastronomy around the world. Served raw or cooked. It either accompanies the main course or is served as a main course. Vegetables are an important source of vitamins, minerals and fiber. Due to its low content of fats and calories, it is often recommended as part of diets. According to the part consumed, we divide it into root - carrots, parsley, beets; leaf - lettuce, spinach; cabbage - cabbage, broccoli, cabbage; onion - onion, garlic, leek; fruit - cucumbers, tomatoes, watermelon, eggplant and delicatessen - asparagus, rhubarb, corn.
Vegetable recipes
Vegetable dishes are not just salads in thousands of ways. Vegetables are the basis of many recipes. Ajvar is a green pepper paste served as an appetizer in Southeast and Central Europe. Ál Ámericaine is a dish prepared with a spicy sauce of tomatoes and vegetables, Ál Éspagnole is a famous dish with tomatoes, olives, onions and Ál Orientale is a dish with rice and a strongly spicy sauce of onions, tomatoes and eggplant. Sicilian specialties of caponata include eggplants, tomatoes, onions, vinegar, tomato puree, wine vinegar, olives, anchovies ... Served as an appetizer, pasta sauce or separately. Frittata is an Italian omelette made of eggs and vegetables. In Brazil, root vegetables are used to prepare traditional poultry camaro soup with rice. In India, sweet-tasting ketchup called chutney is served with food. These are baked pressed apples, flavored with a decoction of beets, wine vinegar, tarragon extract and other ingredients. Ratatouille is a traditional French dish, ragout of tomatoes, peppers, eggplants and pumpkins. Vegetables also have their spicy representatives, such as small aji dulce or jalapeño peppers.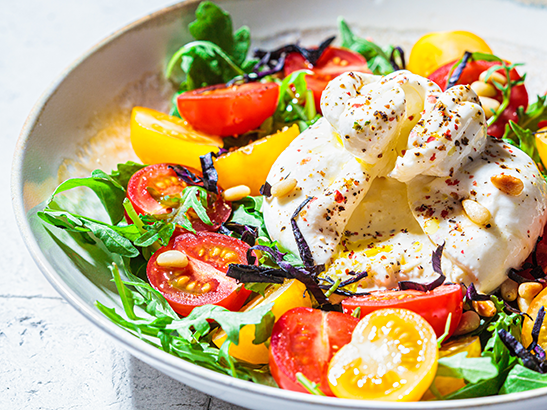 Are you interested in other categories of dishes?