French cuisine
In a modern kitchen
In professional gastronomy, the combi oven is often used to prepare meals. It is a professional kitchen appliance with the characteristics of a hot air and a steam oven at the same time. So it produces steam, hot air or a combination of both. The combi oven offers many ways of cooking food such as cooking, pre-cooking, steaming, stewing, baking, baking, low-temperature or slow baking, sous-vide, confit, smoking, drying, grilling, grilling, roasting, frying, poaching, blanching, regeneration, sterilization or shock cooling.
French cuisine
French cuisine is often considered a culinary art and a symbol of the highest precision. No wonder, then, that Michelin's guide originated in this country. In France, dishes are prepared mainly from fish, seafood and lamb, mutton and veal. Vegetables are usually served as a side dish to the main courses. These are mainly asparagus, spinach, pumpkin or carrot. Pâtés, cheeses and cold cuts must not be missing on any table in France.
Recipes of French cuisine
Delicious savory and sweet dishes come from French cuisine. The sweet dishes are mainly crépes and waffles. Crépes are small thin pancakes popular throughout France. Waffles are made from leavened or unleavened dough and are baked in a special grill - waffle maker. Pancakes and waffles are eaten alone or with jam, chocolate, sprinkled with sugar, nuts, raisins or whipped cream. Of the savory dishes, it is definitely worth mentioning ratatouille, quiche, terrina, cordon bleu, souffle, rillons… Terrina is a French name for a mixture of several ingredients, it is usually served as an appetizer. Chicken, pork but also cheese terrines are common. The dish cordon bleu bears a noble name according to the French order. These are veal fillets stuffed with ham, wrapped in three-pack and fried until golden. Souffle is a light baked pudding with cheese, vegetables, cottage cheese or mushrooms topped with bechamel. Pieces of pork with bacon fried in lard are often referred to as rillons. The most famous French cheeses include roquefort, cantal or camembert. Representatives of the pastry are, of course, the famous French baguette and butter croissant.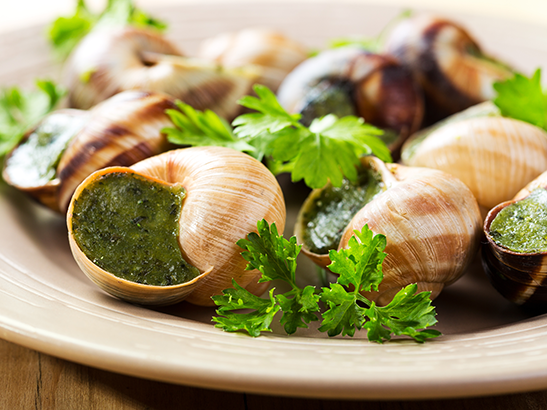 Search by category